Many Ask To Answer What It Was
76
Andrei Sannikov
10.08.2022, 19:06

91,692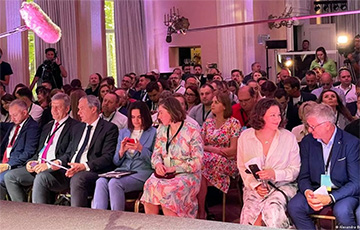 Well, take that and hold on!
Leader of the European Belarus civil campaign Andrei Sannikov commented on Facebook on the conference organized by the office of Sviatlana Tsikhanouskaya:
"Anyway, I feel that I cannot get away from the assessment of Vilnius. Many ask to answer what it was.
Well, take that and hold on!
I wasn't there, I didn't participate, I didn't watch, I didn't listen, I didn't read, but I was very impressed with the result and even watched it post factual to make sure if this was really true.
It was.
And the long-suffering Belarus has never seen anything like this.
"Leaders of the opposition" were self-proclaimed not even by the cogs of the regime, but by its real supporting pillars. Each of them, for at least ten years (sic!), and some more, faithfully created the dictatorship in Belarus.
I was particularly impressed by the figure of the GUBOPIK-GUBAZIK department head, who is still faithful to his profession, and to this day collects information about activists through some kind of virtual "Peramoga". This information then miraculously turns out to be at the disposal of the special services, and the activists find themselves in prisons.
The entire self-proclaimed company was always on the side that carried out repressions, along with the dictator. None of them even know what administrative detention really is.
!! In general, what happened in Vilnius was a complete merger of this group with the regime, with all the ensuing consequences!!
For some, it is more comfortable to be idiots all their lives, someone can get involved in a group of idiots for a short while. However, it is impossible for the majority to suffer from idiocy for a long time, and buy cheap lies.
This is definitely not for free Belarusians!" Andrei Sannikov wrote.