T-72 Tank, 92H6E Radar, Ammunition: Equipment Destroyed By Explosion At Airfield In Belarus
10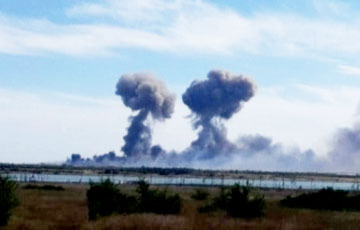 There are also reports that there were casualties as a result of the explosions in Ziabrovka.
A T-72 tank, a 92H6E radar and ammunition may have been destroyed in Belarus at the airfield in Ziabrauka, reports UNIAN.
The Belaruski Hayun monitoring group has received information that as a result of yesterday's explosions at the Ziabrauka airfield a number of pieces of equipment may have been destroyed, which were deployed at the military airfield and next to it.
"According to as yet unconfirmed reports, a T-72 tank caught fire during the night and detonated ammunition, destroying about 10 munitions. This information is confirmed by the fact that this afternoon around 11:00 a.m. a MAZ of the Armed Forces of the Republic of Belarus was seen moving in the direction of Ziabrauka with a sign saying 'demining'," the group said in a statement.
In addition, Defence Blog online magazine, citing its intelligence source, reported that a Russian 92N6E illumination and guidance radar had exploded in Ziabrauka during the night.
"In turn, this means that if the information is true, at least part of the S-400 Triumf air defence missile division that is at the airfield is now non-functional because the radar is part of the SAM complex. Since it is the radar that detects the target and takes it for tracking, that is, it allows it to understand where to fire the missile. Besides, there is also unconfirmed information that there are casualties as a result of the explosions in Ziabrauka," the report says.