One Of Two Lithuanian Schools Closed In Belarus
6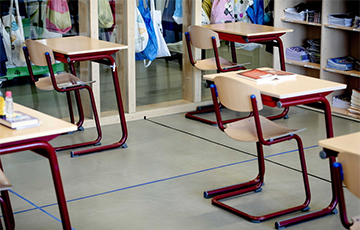 The Inspectorate of the Ministry of Emergency Situations found "violations".
The Peliasy secondary school, one of two Lithuanian schools in Belarus, was closed, the Svetly Shlyakh newspaper reports.
Before the start of the school year, the school was "checked" by the Inspectorate of the Ministry of Emergency Situations. During the inspection, as stated in the Ministry of Emergency Situations, a number of violations were revealed in Peliasy secondary school.
"Thus, the safe and unhindered evacuation of children and teachers from the school premises in case of an emergency is not ensured, proper smoke protection and defense against the spread of fire are not provided. In addition, the premises were re-profiled according to their functional purpose. Warehouses have been converted into classrooms and workshops," said Volha Adzieva, official representative of the regional department of the Ministry of Emergency Situations.
According to her, the identified violations "create a threat of harm to the life and health of students and teachers." On this basis, a proposal was sent to the head of the institution to suspend the activities of the school until the identified shortcomings are eliminated.
"All students, including 40 children from the Lida district and 74 from the Voranava district, will be transferred to study at their place of residence. Each of the 24 teachers, 10 of whom are citizens of Lithuania, will be offered a job in the Voranava region.
With the closure of the school in Peliasy, only one Lithuanian school remained in Belarus— in Rymdziuny.
The school in Peliasy was the first Lithuanian-speaking school in Belarus, it opened in 1992, and last year more than 120 children studied there, the staff included 23 teachers, 11 of them were citizens of Lithuania. This is a private educational institution, from the moment of opening and until now the school has been financed by the Ministry of Education of Lithuania. In April, when it became known about the termination of education in the Lithuanian language, the department threatened to stop allocating funds for the school if the decision was not reversed.