Plane Burned Down: More Pictures Of Rout At Airfield Near Homel
9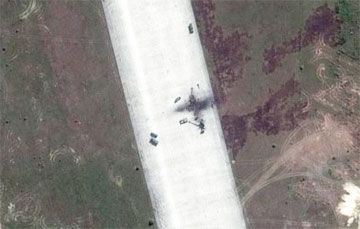 Satellite footage clearly shows traces on the runway and burnt vegetation.
On August 11, a plane was obviously burning during the explosion at the Belarusian military airfield Ziabrauka in the Homel region. Maxar Technologies has published new satellite images from the scene.
The military airfield in the Homel region is actively used by the Russian occupiers as their own military base for carrying out fire impact on the territory of Ukraine. According to intelligence, the aggressor country has deployed S-300 and S-400 missile systems and ammunition there.
"New satellite imagery, dated August 12, 2022, of the Ziabrauka airfield in the south of the Republic of Belarus, where several explosions occurred this week. Today's images show arson marks from recent explosions on the main runway, and burnt vegetation is visible nearby," states the message of Maxar Technologies.
In Belarus, on the night of August 11, the sounds of explosions were heard and flashes were seen at the Ziabrauka airfield. Since 00:30 on August 11, there have been at least eight outbreaks at the military facility.
In particular, the Russian radar illumination and guidance for air defense systems were destroyed. The T-72 tank and ammunition load — about 10 shells — were also destroyed.