Minsk MotoVeloZavod Suffers Threefold Demand Decline But Still Being 'Modernized'
14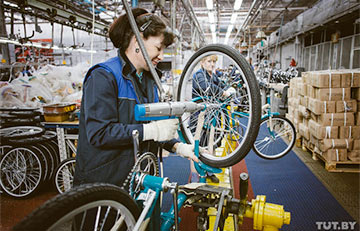 Lukashists' another failure.
The head of Minsk MotoVeloZavod LLC Mikalai Ladutka spoke about the ongoing "modernization" of the enterprise. According to him, they are currently reconstructing the buildings, and in March next year, they are going to start increasing production capacities, which are planned to be completed by the end of 2023, then the installation of technological equipment will be completed, writes myfin.by.
Up to this point, three additional lines will be created in the assembly shop of the enterprise. Also, the newest paint complex modelled by domestic specialists should appear at the plant. According to Ladutka, they are going to get vast amounts of the production units for it from China.
At the same time, the area of the plant should be reduced tenfold (to 20,000 sq.m), and in general, the entire plan for the modernization of the enterprise is planned until 2026.
Speaking about current trends in the market, Mikalai Ladutka noted an interest decline in the products of the capital's Motovelo both in Belarus and abroad.
"This year we have experienced a change in the situation and a decrease in consumer demand both within Belarus and in those markets where we sold bicycles previously. The demand decreased by 30% in the Russian Federation, in Belarus there was a similar decline in individual sales," the head of the plant said.
He also drew attention to the increase of counterfeit bicycles in the Russian and Belarusian markets, mostly made in China.
Mikalai Ladutka, who until November 2014 was the head of the Minsk City Executive Committee, became the head of Motovelo OJSC in mid-2015 when the authorities introduced external management at the enterprise owned by the Austrian ATEC Holding. In April 2018, Motovelo OJSC was declared bankrupt. From this moment on, production is carried out by another legal entity - MotoVeloZavod LLC.