President of Poland Signs Law On Extension Of Visas For Belarusian Truckers
8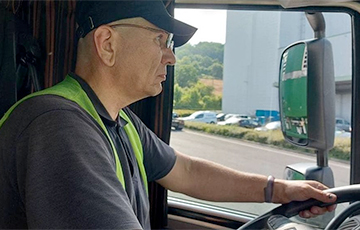 The innovations are associated with a large shortage of drivers.
Belarusian truck drivers who work for Polish companies will be able to extend the validity of their visas and residence documents without leaving Poland. The corresponding law was signed on August 12 by Polish President Andrzej Duda, writes zerkalo.io.
The document, among other things, amends the law of March 23, 2022 "On special rules in the field of transport and maritime economy in connection with the armed conflict on the territory of Ukraine". Initially, this law provided for various simplifications of procedures for drivers from Ukraine working in Poland. Now it has a paragraph about Belarusians.
It is about drivers who are citizens of Belarus and carry out commercial or non-commercial road transport for a carrier or entrepreneur based in Poland.
If a driver is in Poland on a national visa and the period of stay on it ends on September 1, 2022 or later, then the validity of the visa and the period of stay on it are extended until December 31, 2022 (until this date, almost all the regulations in the original law introduced by because of war). The extended visa will give the right to cross the border for the purpose of road transport. A sticker on the extension of the visa will be affixed to the passport, this will be done by the voivode at the driver's place of residence.
If a driver has a temporary residence permit in Poland, the last day of which falls on September 1 or later, then its validity is also extended until December 31.
If, according to his documents, the Belarusian driver had to leave the territory of Poland on September 1, 2022 and later, this period for him is extended until August 24, 2023.
Also, the validity of residence cards issued to Belarusian drivers, Polish identity cards of a foreigner, documents "permit for temporary residence" ("zgoda na pobyt tolerowany") are extended: if their last day of validity falls on September 1 of this year, they are extended until August 24, 2023 (documents will not be exchanged).
At the same time, it will not be possible to travel outside Poland with extended stay cards.
Also, until August 24, 2023, it will be considered legal to stay in Poland on Schengen visas issued by Poland and other Schengen countries, and on residence permits issued in Schengen countries and allowing you to travel within the Schengen area, if the last day of the period of stay for these documents falls on September 1, 2022 and later, and the stay itself began before September 1.
As explained at the stage of consideration of the law in the Sejm, such innovations are associated with a large shortage of drivers in Poland right now. Against this background, the Polish authorities do not want to lose a single Belarusian driver.
"We want this whole process to take place in Poland, so that drivers do not have to return to get new visas to Belarus, because we have no guarantees that they will return from that Belarus. And there is a huge shortage of drivers. Therefore, we want to introduce this norm in such a quick way. It is important for the transport security of Poland, especially now, when the volume of transportation through Poland by road of various raw materials and goods from Ukraine will increase," explained the Deputy Minister of Infrastructure of Poland Rafal Weber in June.