Putin Declares Partial Mobilisation In Russia
265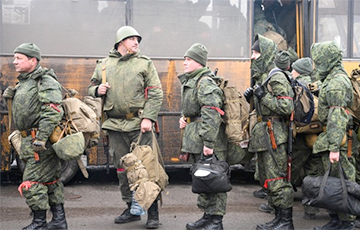 The mobilisation measures will start from September 21.
Kremlin dictator Vladimir Putin has announced a partial mobilisation in Russia.
"For the defence of our homeland and integrity, I consider it necessary to support partial mobilisation," Putin said in his address.
Russia's Izvestia reports that Putin has signed a decree on partial mobilisation in Russia. The mobilisation measures will start from September 21.
The decree stipulates additional measures to implement the state defence order. The conscripts will undergo compulsory military training.
According to Putin's decree, only those citizens who are in the reserve and, first of all, those who have served in the armed forces, have certain military professions and relevant experience will be drafted for military service.
As Putin pointed out in his address to the Russians, the measure of partial mobilisation was taken to "protect Russia and its sovereignty".
"All issues of material, resource and financial support for defence enterprises must be resolved by the government without delay," Putin pointed out.
On the eve, the Russian State Duma passed amendments that make it easier for foreigners who have signed a contract to serve in the Russian army to obtain citizenship.
On September 20, the Kremlin's puppets in the Donetsk and Luhansk people's republics announced the dates for their pseudo-referendums. The L/DPR militants said that the fake voting will take place on September 23-27. Kremlin-controlled proxy "authorities" of Kherson Region have announced plans to hold a "referendum" on "joining" Russia on the same days. The occupants also scheduled a pseudo-referendum in Zaporizhzhia Region for September 23-27.
The statements came shortly after the swift counter-offensive of Ukraine's defenders: on September 14, the Defence Ministry reported that since September 6 (in one week) the AFU had liberated 388 settlements and about 8,500 square kilometres in Kharkiv Region alone.
Additionally, the Duma approved an amendment introducing the concepts of "mobilization", "martial law", "wartime" and "armed conflict" into the Criminal Code. Also, the lower house of the Russian "parliament" approved amendments on punishment for desertion and voluntary surrender.