Belarusian Sambo Wrestler Stiapan Papou: One Who Defends Home Is Right And Stronger
1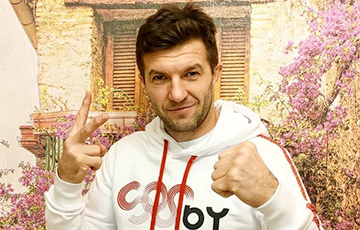 Russian warfare strategy is to be a horde.
The Belarusian sambo wrestler Stiapan Papou urged on Instagram his Russian colleagues not to go to fight against Ukraine after Vladimir Putin announced partial mobilization in Russia:
Well, dear sambo wrestlers? So many people in uniform are engaged in this sport having good physical shape. Are you now ready to do more than a letter to Putin with support for war and other calls?
Mobilization has been announced, and you will be in the forefront without a visa to go to Ukraine! If you believe that only 5937 of your compatriot died there (the figures announced by the Minister of Defence of the Russian Federation Sergei Shoigu on September 21, the estimates of the Ukrainian side are an order of magnitude higher - Ed.) and that there are neo-Nazis there, that they want to enslave you, then I wish you to run to military registration and enlistment office. You will be convinced only by what you will see with your own eyes [in Ukraine]. But it will be too late.
I want to ask the rest: what do you think, which of the sambo wrestlers will be in the ranks of the "special" ones? Who will not be affected by the mobilization? Maybe world champions or MSM [Merited Sports Master - Ed.]? Who will be the first? What do you think, will it be young and unpromising or sambo veterans? But the Golden Elite, those who signed a letter to Putin, who conduct the "Za Sambo" master classes, will not be affected for sure. They did so much for their homeland!
Whether you will prepare now for the World Cup, whether you will be able to leave Russia? No one knows. But after the speech of your dictator, one thing is clear to me - that he does not care how many people die in this war. All his words are the Nazi pumping of his people and the threat of a nuclear war. It sounds terrible, terrible words and terrible laws. It is he who deprives you of many things that you had before the war. Now you have the opportunity to think and analyze all the events taking place in your country and abroad. So it is possible to understand the truth and the real situation of your country and your army.
I saw with my own eyes the way and the number of Ukrainians protecting their homeland from you. The one who defends the home is right and stronger. Now there is a war with the use of modern weapons, which Ukrainians have enough of. The Russian warfare strategy is to be a horde and to advance in great numbers to die.
The power of the "emperor" is kept only on deceit and your fear, and it did not survive long. It is better to say loudly "NO WAR", and to be sentenced and soon come out as heroes, than to be murderers or rot on the battlefield as an occupier in disgrace for deceit! The future of Russia depends only on you, on your courage and your actions. No War," Stiapan Papou writes.