How Lukashists Lie About Country's Foreign Trade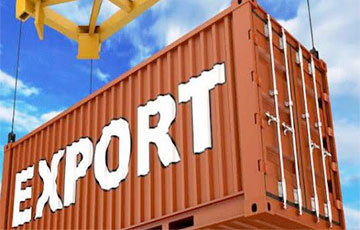 The state media is unlikely to tell that the fall in imports is a big problem.
Let's talk about foreign trade, writes the Our Money Telegram channel.
Today, in fact, it is pulling the country's economy, not allowing it to finally fall into the abyss, at the same time being a time bomb. And foreign trade has been and remains a topic for many informational speculations.
Foreign trade is what we buy and sell abroad. Ideally, it is important to maintain a balance of these components. It's even better when we sell more than we buy. It is this situation that is now observed in Belarus, on which the propaganda focuses attention.
We are told: everything is fine! The foreign trade balance is positive and reaches record volumes. In fact, the essence of what is happening is that exports are falling in the country (for 7 months of this year it went into the red by 3.7%), but at the same time imports are falling more (by 8.9%). Here the balance is growing.
The state media is unlikely to tell that the drop in imports is, in fact, no less of a problem for the economy. Also, propagandists will not want to divide foreign trade into components, because then it will become clear that the king is naked. And we'll divide it.
So, the goods are divided into "investment", "intermediate", and "consumer". Let's see what we have according to the results of 7 months.
Consumer goods — everything that is bought, conditionally, in a store. Their exports increased by 14%, while imports fell by 9%. There are fewer and fewer European goods on store shelves. "Swiss" chocolate, "Italian" pasta and "French" cheese, if you look closely, are actually made in Russia or China.
As for exports, our dairy products and refrigerators are really selling well on the Russian market. But one should not have illusions: this is not due to increased competitiveness, but quite the opposite, because there are much fewer alternatives.
Intermediate goods are what production needs in the form of raw materials and components. In this sector, exports fell by 12% and imports by 7%. We have less and less raw materials and components, as a result, some assembly plants may start to work intermittently or even stop. It's hard to say what our washing machines, refrigerators, tractors and televisions are made of. If only Chinese components are needed for their production (which is unlikely), one can hope that for the time being they will be available at the very least. But if these are parts from the EU or the US, there are big problems.
Investment goods are machinery and equipment. Here, exports are growing by 17%, but this most likely means that Russians are now forced to buy some devices in Belarus. At the same time, we see a colossal drop in imports — by 24%. Accordingly, Belarusian production facilities have lost a quarter of the possibilities for modernization or expansion in just 7 months. Let's remember that our dairy products, woodworking, and other industries that showed real results, achieved them due to modern equipment from Europe. Which there will be no more.
Belarusian exports are based on intermediate goods (about 57%), another third is consumer goods. Investment accounts for about 13%. In imports, the picture is similar, only the share of intermediate goods is higher — 69%, while the shares of investment (8%) and consumer goods (23%) are somewhat lower. Obviously, it is the high dependence on imported raw materials and components that will be the main headache for the Belarusian industry. Difficulties with investment imports will appear somewhat later.
Figuratively, we can say that consumer goods are responsible for today's day. For what will happen a week or a month later — intermediate ones. And for what happens in a year — investment. And if today it is still possible to "draw" a positive picture, then in the medium term, and even more so in the long term, everything looks sad. After all, if we want to overwhelm Russia with our goods or components, they simply need to be produced on something. And as the drop in investment imports shows, there will be less and less opportunities to maintain capacities.