AFU Powerful Strikes Turn Russian Army Headquarters To Rubble In Kherson
2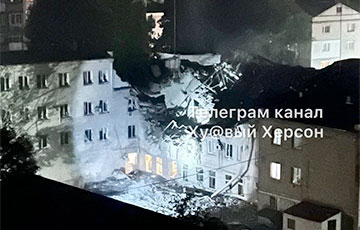 There was almost nothing left of the building.
On the evening of Wednesday, September 21, there were several attacks in occupied Kherson. First, there was a strike on the concentration of Russian military equipment near the Antonovsky bridge and then on the base of the Russian Armed Forces.
Images of the aftermath of the explosions are already on the Internet. Media outlets began writing en masse about new explosions in Kherson at about 8:00 p.m. Preliminarily, the building of the Main Directorate of the State Emergencies Service of Ukraine in the Kherson oblast, which invaders had turned into their base, was attacked.
"The Russians had a headquarters in Kherson a couple of hours ago," a deputy of the Verkhovna Rada Yuri Mysyagin reported on Telegram.
Judging by the released footage, almost nothing was left of the building. At least three upper floors collapsed.