"They Captured Everyone Who Did Not Show Belarusian Passport"
34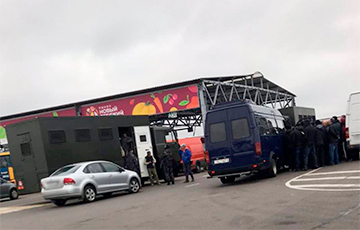 What is known about the raid on the Novy Lebiazhy market in Tabory.
Radio Svaboda, citing an eyewitness, reported that on Thursday, September 22, the OMON riot police came to the Novy Lebyazhy market. The son of one of the employees told Zerkalo that most of the detainees are people who have more than one passport.
According to our reader, it happened this morning. His mother came to work at about 9 am and already saw OMON officers in balaclavas. Two prison trucks and one bus were also parked near the market.
"They were arresting all people who did not have a Belarusian passport: Uzbeks, Russians, Tajiks. With no aggression. Not only OMON officers, but also people in civilian clothes. Belarusians were checked and released. The market security told my mother that 70 men and 20 women had been arrested. She said that the police would figure out what to do with them later on," the source says.
People at the market do not know the reason for the raid.
"We don't know what caused it. Such raids have already happened on the market in Zhdanovichy. It is the first time for us," a reader says.
We called the administration of the Novy Lebiazhy market at the numbers indicated on the website posing as market workers. According to one of these numbers, they answered that the detentions did take place, but they had no information about the reasons for the raid.
"I'm afraid to go to work. Please, tell me what's going on?" the journalists asked.
"Take your passport and go to work," was the answer.
"Why should I take my passport?"
"So that they would know that you are your people."