Russia Strikes Humanitarian Convoy Outside Zaporizhzhia With Missiles
5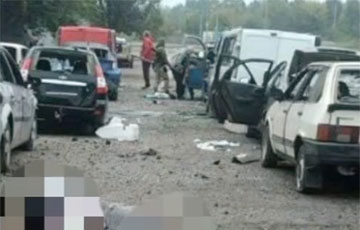 More than 50 civilians were killed and injured.
Russian troops hit a civilian humanitarian convoy at the exit of Zaporizhzhia with missiles in the morning of September 30.
Oleksandr Starukh, chairman of the Zaporizhzhia Regional Military Administration, said this on Telegram.
"People were queuing to leave for the temporarily occupied territory to collect their relatives, to deliver aid," he wrote.
Emergency services are now working at the site. Melitopol mayor Ivan Fedorov added that there were also Melitopol residents among the victims.
"So far it is impossible even to count the number of dead and wounded people. Melitopol residents are among the victims," he wrote on Telegram.
UPDATED
The first casualty data has become available.
According to preliminary data, as a result of this morning's shelling of a humanitarian convoy on the outskirts of Zaporizhzhia, 23 people were killed, 28 were wounded. All were civilians, the Regional Military Administration chairman Starukh has said.