In Minsk, Political Prisoner Yauhen Batura Released In Courtroom
4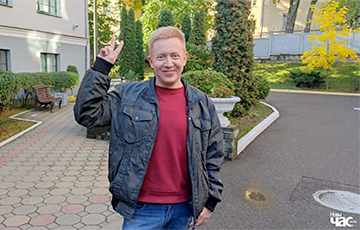 He was tried for participating in the MTZ march in 2020.
On September 30, in the Central Court of Minsk, Judge Viktoryja Shabunya considered the case of political prisoner Yauhen Batura and sentenced him to two years of liberty restriction with a referral to a correctional facility, Novy Chas reports.
The trial of Yauhen Batura began on September 29. Part of the process took place behind closed doors. The Minsk resident was charged under Part 1 of Article 342 of the Criminal Code of the Republic of Belarus ("Group actions grossly violating public order"). The reason was participation in the MTZ march on August 14, 2020.
Yauhen Batura partially admitted his guilt, and in the last word he asked to take into account the personal family situation when sentencing: his wife's pregnancy and his father's pronounced oncological disease.
Tatsiana Lishankova, the lawyer of the political prisoner, applied for the acquittal of her client, since there was no corpus delicti in his actions.
As a result, Judge Viktoryja Shabunya sentenced Yauhen to two years of liberty restriction. The man was released in the courtroom under a written undertaking not to leave, his property was cleared off arrest.
Yauhen Batura is a Minsk resident, an engineer, he worked at the Minsk Tractor Plant for 23 years, but before 2022 he was fired for his civil position. He was repeatedly detained and tried on administrative offence accusations.
In the morning of June 29, security officers came to the house of Yauhen Batura with a search. Yauhen himself was initially detained for 10 days and taken to the Akrestsina Street detention center. His relatives were told that the events of 2020 were the reason for the detention.
On July 12, it became known that Yauhen Batura was transferred from Akrestsina Street detention center to the Valadarka remand prison, and charged with criminal allegations.