Unbearable To Watch But Mandatory
14
Iryna Khalip
20.01.2023, 14:23

43,464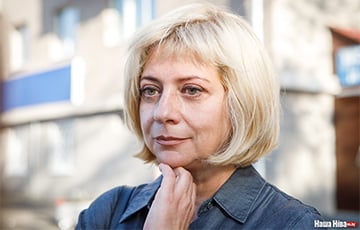 Memories of the future.
I have recently watched a Swiss documentary about the history of the Belarusian resistance. It was unbearable to watch.
Here's September 2010, the funeral of Aleh Bebenin. Aleh. Twelve years have passed; no one has born any responsibility for this death. Yauhen Afnahel carries the coffin with Aleg's body. Zhenka. After the events of 2020 he escapes arrest by a miracle. He manages to hide in a false ceiling (he must be Batman, after all), and while the KGB officers searched his house, Afnahel was above them like a Thunderbird, and could hardly stifle his laughter. Then he was able to escape secretly, lived abroad for several years, but returned to organize street protests again. Yauhen is in his third year in prison.
I see the profile of Pavel Severinets against the background of Aleh Bebenin's coffin floating on the shoulders of men. Pavel also serves his third year in prison; he managed to spend half a year in the KGB jail between the funeral in 2010 and his arrest in 2020, serving three years at an open-type correctional facility. Stanislau Shushkevich was at funerals. We owe much of our independence. Forgive us, Stanislau Stanislavavich, for having missed the freedom you gave us and not having had time to return it in your lifetime.
And here is old footage taken with a hidden camera. Young Maksim Viniarski and Pavel Yukhnevich handing out leaflets in the subway and then putting underground newspapers in mailboxes. Oh, I remember those newspapers with no imprint. It's hard to believe now, but they had 600,000 copies. And when I saw people reading those newspapers in beauty salons, on streetcars, on park benches, I could understand the meaning of the old Soviet expression "deliver to every peasant's hut." Maksim and Pavel agreed to film their partisan operations and did not hide their faces. In fact, they never did it. Both serve their third year in prison. It is hard to count how much time they have served in total during this time, if one takes in account their administrative arrests. Pretty much. I didn't recognize Maksim in the courtroom. He looked completely different without his decadent long hair. He lost 20 kilos in weight. Only his smile and the "Long Live Belarus", and his hand raised in a victorious gesture remained with him. Meanwhile, intrepid Pasha Yukhnevich tried to live an ordinary life like most Belarusians: he worked, got married, brought up two wonderful daughters. He made a career in the car business. He was doing fine. In the summer of 2020, he was offered to be an official representative of a major tire concern in Belarus. It was an excellent offer with the same luxurious salary. The only thing to do was to agree at once and to start working pretending that nothing happened in the country. He couldn't do it, he refused, and ended up in jail.
The camera captures the procession of many thousands of people. Mikalai Statkevich is in the first row. I noticed that no matter how many marches they show, Statkevich is almost always in the front row of the column. Except for the years when he was in jail. And he has been in prison for more than ten years in total. And there's just as many more to serve, if we don't make a difference.
Then the camera picks up familiar faces again - here is Henadz Fyadynich, here is Zinaida Mikhnyuk. Both, of course, are in jail. Zinaida has long been called the Brest Fortress in her hometown for her desperate character, endless courage, and will to resist. Her trade union colleague Henadz Fyadynich was arrested when his first case was still pending. The REP trade union, which he headed for many years, is recognized as an extremist formation. Henadz, who celebrated his 60th birthday in the KGB detention center, was sentenced as a hereditary extremist to nine years in prison.
While watching this movie, where everyone is alive and at large, I caught myself thinking that I desperately don't want to remember. I just want to forget everything, so that this hellfire won't come back as nightmares, won't torture me with insomnia and helplessness, won't whisper in my ear "do you remember?" But it doesn't work.
Memories crawl through all the window and door cracks, pass through the walls, get tangled in the dream catcher's web. And you can't chase them away. They're memories of people who feel worse than we do. If they're even still alive.
And I understand that all of them - Mikalai, Pavel, Zinaida, Maksim, another Pavel, Yauhen, Henadz and hundreds and thousands more jailed Belarusians - are our future. No free Belarus can exist without them. Everyone there would not be afraid and Aleh Bebenin's death would finally be investigated and the street would be named after Stanislau Shushkevich. No matter how painful and scary it is to remember again and again everything that happened and all those who are behind bars - we will have to. I guess I finally understood what the expression "memories of the future" means.
Iryna Khalip, especially for Charter97.org