AFU Tank Crew Blew Up Russian Tank With Direct Fire
7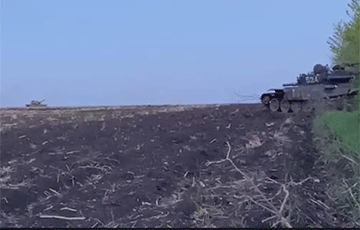 The armoured vehicle detonated and crumbled.
A video of the destruction of a Russian tank appeared on social media. A tank of the Armed Forces of Ukraine with tail number 524 unleashed direct fire at the side of the enemy tank. One of the Ukrainian soldiers filmed this with a smartphone camera. Later the video spread online.
The Ukraine 365 Telegram channel published a part of the video.
In the published footage, the Ukrainian military directly hit a Russian tank, which is located just a hundred meters from the Ukrainian positions. A powerful explosion thundered tearing the car apart after the tank of the Russian Armed Forces came under fire.
It's likely that the ammunition of the occupiers detonated. The crew of the Russian tank, with a high degree of probability, died, as evidenced by the nature of the explosion.