Church Where ROC Priests Baptized Soldiers Before They Were Sent To Ukraine Caught Fire In Russia
20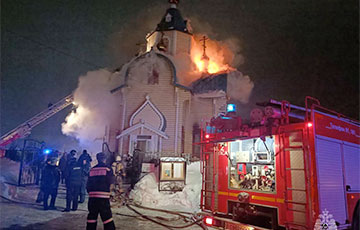 The fire engulfed the wooden structure.
On the night of January 25, in the Russian city of Kirov, a wooden church was engulfed in flames. The fire area was 50 square meters. There is no information about the victims yet. It is known that it was in this church that local priests from the Russian Orthodox Church baptized and blessed the soldiers of the Russian Armed Forces for "feats of arms", reports Ukraine 365.
Russian media write that in 1962 the local city authorities destroyed the temple, and in 2007 it was decided to build a new church in its place. Feodorovskaya Church has become an exact copy of Vladimirskaya, which is located in the residence of the President of the Russian Federation in Valdai.