Voice Of America: U.S. Decides To Ship Abrams Tanks To Ukraine
6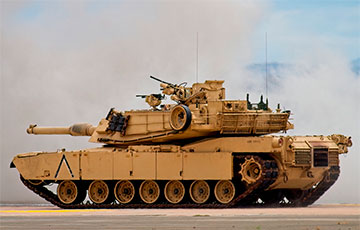 It can be officially announced already today.
The U.S. is preparing to announce it will provide Ukraine with U.S. made M1 Abrams tanks. This information has been confirmed on Tuesday by a representative of Joe Biden's Administration in a conversation with the Voice of America.
Tanks are likely to be procured through the Security Assistance Initiative (#USAI), which means they would not be coming from existing Pentagon stocks, the official added.
Two sources in the administration also told Reuters about it. The decision came just days after Washington objected to sending the Abrams despite requests from Kyiv and pressure on Berlin to send German-made Leopard battle tanks to Ukraine.
A third source familiar with the situation said that the United States could deliver about 30 Abrams tanks in the coming months.
Officials who spoke to reporters on condition of anonymity said the announcement could be made as early as Wednesday, January 25.
Reuters sources also said the Abrams would likely be acquired through the USAI fund.
One source said the Biden administration could use USAI to buy previously acquired Abrams from allies, refurbish them and send them to Ukraine. This process, according to Reuters, can take months and even years.
Ukraine says Western battle tanks equipped with heavy armor will give its troops greater mobility and protection against the new Russian offensive that Kyiv expects in the near future. The new tanks could also help Ukraine regain some of the territory occupied by Moscow.
Administration officials have said in the past that the Abrams are difficult to maintain and take a long time to learn how to operate them, citing another disadvantage — the need to use jet fuel, which is not the best alternative in the current conditions.
A Pentagon spokesman on Tuesday declined to confirm whether Washington would supply tanks to Ukraine, echoing earlier claims about difficulties in using the Abrams.
"The M1 (Abrams) is a complex military vehicle that is difficult to maintain. It was true yesterday, it is true today, and it will be true in the future," Pentagon spokesman Brigadier General Pat Ryder told reporters.
"We continue to discuss with the Ukrainians and our allies and partners the medium and long-term defense needs of Ukraine," Ryder added.
The information about the U.S. softening came on the same day that sources said Germany would send Leopard 2 tanks to Ukraine to help repel a Russian invasion and allow other countries like Poland to do the same.
A source familiar with the matter said the decision was made by Washington as part of a conversation with Berlin about its reluctance to provide tanks to Ukraine to demonstrate the seriousness of the US commitment.
"The United States has been willing to make significant commitments to help [Germany] create its own [commitments]," the source said. "Tanks are an important asset, and if that requires US leadership, that's what we were prepared to do."