Lukashenka Insulted Muslims Twice In A Twenty-Second Video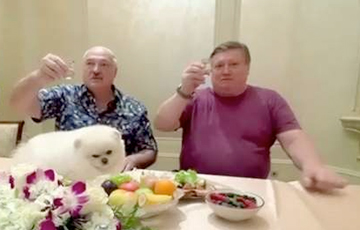 The dictator violates the rules of being in the United Arab Emirates.
Aliaksandr Lukashenka celebrated the victory of Belarusian tennis player Aryna Sabalenka at the Australian Open tournament during his visit to the United Arab Emirates together with his close businessman Siarhei Tsiatseryn and pom Umka. Propagandists from the dictator's press service published the video of their feast.
In the video, Aliaksandr Lukashenka and Siarhei Tsiatseryn, sitting at the table on which the pom Umka is laying, raised their glasses and clinked.
Thus, Lukashenka insulted Muslims twice, according to the udf. Firstly, the public drinking of alcoholic beverages is strictly prohibited in the UAE, and secondly, a dog is considered an unclean animal in Islam. And the presence of Lukashenka's beloved pet on the table can be regarded as another insult to the host country.