Oleksiy Honcharenko: Lukashenka Is A Criminal With Stigma Burned On His Forehead
13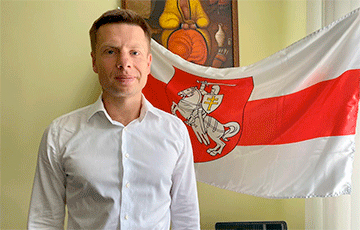 The tribunal over the two regimes becomes real.
On January 23, the Leninski District Court of Mahiliou recognized the social networks of the deputy of the Verkhovna Rada of Ukraine, head of the inter-factional deputy association "For Democratic Belarus" Oleksiy Honcharenko as "extremist materials".
The Charter97.org website asked the Ukrainian parliamentarian to comment on the court's decision:
— I took it as a small medal of honor. My social networks got a big fat like from the Lukashenka regime. After all, if for him my networks are "extremist" and dangerous, then I am doing everything right, and this work needs to be continued.
— You and your colleagues earlier submitted a proposal to the Verkhovna Rada of Ukraine to recognize Belarus as a territory occupied by Russia. Tell us about this offer.
— Indeed, in the Verkhovna Rada there is a draft resolution from me and my colleagues from the inter-factional deputy association "For Democratic Belarus", which says that Belarus today is an occupied territory.
Therefore, it is necessary to raise the question of excluding the puppet regime established by Russia from international organizations, institutions, and so on.
— You are also a member of the Ukrainian delegation to the Parliamentary Assembly of the Council of Europe (PACE), which recently supported the creation of a tribunal for Putin and Lukashenka. To what extent is this a realistic prospect, and what might the tribunal look like?
— I can say that I was one of those who promoted this idea. The prospect of a tribunal is absolutely real. We are working on it. I believe in a positive outcome, which will look like this: there will be a group of countries, as well as international organizations, for example, the Council of Europe, which will conclude an appropriate agreement among themselves and create a tribunal.
I emphasize that we are talking about a tribunal against Putin, Lukashenka, and the highest military-political leadership of Russia and Belarus for the crime of "aggression".
We are talking about this tribunal, not about all the war crimes committed, but about the root of all this — about the very fact of military aggression against Ukraine by Russia using the territory of Belarus. Such a tribunal could be created. All the evidence is there.
The Tribunal will be able to carry out its work and make a decision. It is clear that Russia and the puppet Belarusian regime will not recognize it, but, firstly, these regimes have not fallen yet, and I am sure that they will fall. Second, it will exacerbate both the economic and diplomatic isolation of the regimes.
— It is noteworthy that the creation of the tribunal in PACE was supported unanimously and even Azerbaijan, loyal to Lukashenka, voted for it. What does it mean?
— Neither in Armenia, nor in Serbia, nor in Hungary, nor in Turkey, or in any of these countries, there was not a single deputy who would vote against. This speaks to their level of isolation. The fact that it is obvious to the whole world who Lukashenka and Putin are. Just criminals with a stigma burned on their foreheads.