Kalinouski Regiment Fighters Take Wagner PMC Mercenaries Prisoner
25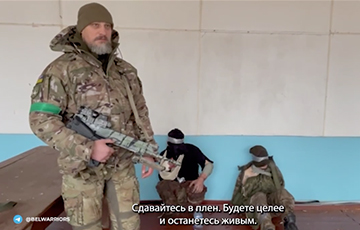 A video of the interrogation has been published.
Soldiers of the Mikita Kryutsou UAV unit of the Kastus Kalinouski regiment captured mercenaries from the Wagner PMC.
"We replenished the exchange fund and increased the chances for the exchange of our heroes who are held captive in the Russian Federation," writes the press service of the regiment.
It is important to note that two Belarusian volunteers Jan "Trombley" Dziurbeika and Siarhei "Kleshch" Dziohtsiau remain in captivity of the Russian invaders. They are included in the exchange list.