Military Expert: Almost 70% Of Combat-Ready Russian T-90 Tanks Were Destroyed In Ukraine
2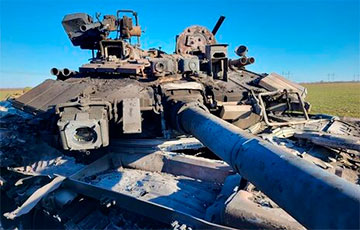 Russian production of battle tanks lags behind modern methods of warfare by several generations.
As of today, the destruction, damage, and trophy of 45 Russian T-90A/S/M Proryv tanks have been documented (photo/video) in Ukraine. According to undocumented data, this figure exceeded 70 units, according to Ukrainian military expert Oleksandr Kovalenko.
There is an interesting thing here. According to the documented data, 940 units of the T-72 tanks out of 2030 combat-ready were destroyed in Ukraine as well as 380 units of the T-80 tanks out of 550 combat-ready, and it turns out that 450 out of ... But here is an interesting question: "Of how many?"
Russia is believed to have up to 45 units of the T-90 tanks in service. But, here is a question, if Russia has a sufficient number of the T-90 tanks combat-ready, then why have the export versions of the T-90S begun to appear in the combat zone in Ukraine since the fall of 2022, and not the T-90A/M that are in service with the Russian Armed Forces?
The Russian army has been decommissioning and sending for storage the T-90 tanks since the 2010s. At the time of the start of the full-scale invasion of Ukraine, the Russian army had no more combat-ready T-90 tanks, attention, hundreds! All the rest were either mothballed or in need of a major overhaul.
That is, based on the documented data available today, almost 50% of the combat-ready "no analogues in the world" T-90 was destroyed in Ukraine. But this is exactly when we are talking about "documented data". But what is the situation according to undocumented data? Does it turn out to be 70%?
It is precisely such a catastrophic number of losses of combat-ready T-90 tanks that explains the fact that Russia is forced to bring export versions of these tanks to Ukraine, including those produced for India, the Bhishma.
In total. The result is simple. The number of the destroyed "no analogues in the world" T-90 battle tanks is not less than the number of destroyed T-72 and T-80 battle tanks. That is, it is very similar to the classical Soviet school of tank production, which is generations behind modern methods of warfare. That is why they have such a low survival rate on the battlefield.