Brigade Commander In Maryina Gorka Recruits Belarusians to PMC
13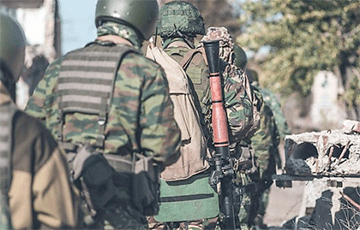 A Belarusian intelligence officer, captured by the AFU, informed about this.
In late January, Kyiv Shevchenko court sentenced a 22-year-old Belarusian, Maksim Zeziulchik, who had fought in Ukraine as a member of the Russian private military company Redut, to 10 years in prison. The verdict published in the register of court rulings, revealed some details of the convict's biography. In particular, the young man told the court that before he became a mercenary, he had served under contract in the fifth special brigade of the Armed Forces of Belarus. The commander of the unit told him about recruitment to the PMC.
Maksim Zeziulchik was born in Rudensk. the Minsk region. At the time of the full-scale Russian invasion of Ukraine on February 24, 2022, he was serving under contract in the Armed Forces of Belarus. The defendant says he was a reconnaissance commander of the second detachment of the fifth separate Special Purpose Brigade, which is based in Marina Gorka.
"He learned from the commander of his unit that the PMC Redut in Russia recruits mercenaries for a fee and decided to join the ranks of the mentioned PMC. He arrived in Tambov in July 2022 and was met by two representatives of the PMC Redut, the verdict reads.
Then the mercenaries were taken to the training ground "Trigulyay" in the village of the same name. Ziaziulchik signed a contract with a salary of $ 3600 a month. He was enrolled in the "Veterans" unit as a machine-gunner.
After three-day training, Zeziulchik was sent to fight in Izyum, Kharkiv Oblast, which at the time was under Russian occupation.
Zeziulchik was supposed to defend a communications post and help liaisons. On July 30, nine days after his arrival in Ukraine, Zeziulchyk was wounded in a battle near Krasnopoly, Donetsk Oblast. On August 15, he was sent to Svatove, Luhansk Oblast, and then to the village of Koroviy Yar near Liman in Donetsk Oblast. On September 19, Zeziulchik was wounded in the leg near Yatskivka, Lyman District. He said in court that he was wounded by his own commander. The same day the Belarusian was taken prisoner.
In court, Zeziulchik admitted his guilt and repented, noting that he regretted his actions.
The Belarusian was found guilty under part 4, Article 447 of the Criminal Code of Ukraine for participation as a mercenary in the armed conflict. He was sentenced to ten years in prison.