Miners Work As Loaders: What Is Happening At Belaruskali?
34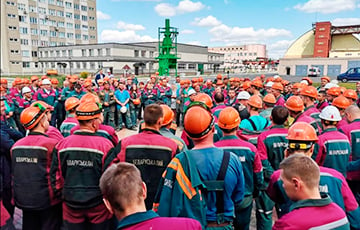 The wages of the Salihorsk enterprise employees are being cut.
The port of Klaipeda has long been one of the main channels for the supply of Belarusian potash fertilizers. In 2013, Belarus even bought out a third of the shares of the bulk cargo terminal. In February last year, due to sanctions, Lithuania stopped the transportation of Belarusian cargo through the port of Klaipeda. Belaruskali lost the main transit route for its products.
Radio Svaboda journalists looked at how the flagship of the Belarusian industry worked this year, and what is happening at the Salihorsk enterprise now.
What the statistics show
The Belarusian authorities closed all statistics on the economic activity of Belaruskali. There is no data on exports for 2021-2022, reports on the economic activity of the Belarusian Potash Company and Belaruskali are not published. The latest data is for 2020. Then the net annual profit of the Belarusian Potash Company, the main trader of Belaruskali, amounted to 580 thousand rubles. In total, in 2020, Belarus sold potash fertilizers worth $2.4 billion abroad.
According to the US National Minerals Information Center, Belaruskali's production for the past 2022 amounted to only 3 million tons, which is 60% less than in previous years.
According to the European Statistical Service, last year Belarus was still selling mineral and chemical fertilizers to the EU. In January, February and March, Belarus sold mineral and chemical fertilizers worth 38.1 million euros to the EU.
For comparison, in 2020, before the imposition of sanctions, Belarus sold potash fertilizers worth 195.7 million euros to the EU. This is five times more than last year. In April, according to the European Statistics Service, the export of Belarusian potash to the EU stopped completely. In June last year, Belaruskali's products fell under EU sanctions.
As an alternative to the port of Klaipeda, Belarusian officials named Russian ports. It was through them that they were going to supply potassium. The Belarusian channel ONT announced the start of such deliveries only in July, that is, only 5 months after the ban on transit through the Lithuanian port.
It was then about a contract for transshipment of 2 million tons by the end of the year. For comparison, in 2020, Belarus exported 7.1 million tons of potash fertilizers, 3.5 times more.
The cargo turnover of Russian seaports last year amounted to 841.5 million tons and increased by 0.7%. But the volume of transshipment of dry cargo (namely, potassium belongs to such cargo) decreased by 0.2% compared to 2021.
What is happening at Belaruskali
According to Svaboda, the company is now undergoing a "natural downsizing." Someone's contract ends, it is not renewed, new employees are not hired either. Sources at the enterprise report that goods from Belaruskali are now being sent through the ports of Murmansk and Ust-Luga. This is the way to China across the Arctic Ocean. Some employees also have their salaries cut, sometimes by half. The drop in pay mainly affects those who work on piecework in the mine.
From May to the end of October, Belaruskali operated at a third of its maximum capacity. At the moment, the volume of production has slightly increased, but at the same time, almost entire teams of miners are removed from work and sent to ship finished products. There were and are some services in which, on the contrary, the amount of work has increased — this applies to some repair teams.
"Supplies have fallen, but product prices have risen"
Previously, the main buyers of Belarusian potassium were Brazil, India, and China. Deliveries to these countries continue, but they have also declined. This is stated by the academic director of the independent academic research center Beroc Katsiaryna Barnukova.
"For example, deliveries to India are now at 45% of last year, they have fallen by more than half. These deliveries go through the Russian railway and possibly through Russian ports. There, too, there were problems with payment, payment in rupees was discussed. There are incomplete figures for China, but they show that deliveries are almost in full, as before," says Katsiaryna Barnukova.
The expert points out that prices for potash fertilizers doubled last year, which made it possible to compensate for some losses in other markets.
"Belaruskali's competitors are talking about a 50% drop in sales. However, potash prices have almost doubled, according to contracts with China. This made it possible to stay afloat, but now prices are starting to decline," says Katsiaryna Barnukova.
In such a situation, Belaruskali will have to cut employment and salaries next year, the expert believes.
"We are seeing price cuts for all fertilizers. If next year it turns out impossible to expand the volume of deliveries, then they will have to actively reduce employment and wages. We saw salary cuts last year as well, but salaries were initially quite high," adds Katsiaryna Barnukova.