Big Coastal City Flooded In Turkey After Earthquake
19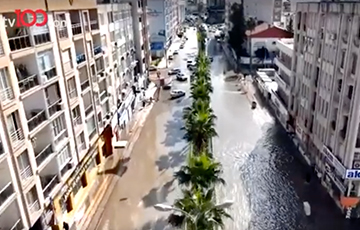 The water did not recede even two days after the cataclysm.
One of the many effects of the devastating Iskenderun earthquake in Turkey was a rise in sea levels, local NTV channel reported.
The report clarifies that the earthquake, the magnitude of which amounted to 7.7 and 7.6, affected ten provinces. After that, the sea level rose in Iskenderun in Hatay. Roads, squares, coastal areas, as well as many workplaces were flooded. All buildings, retail facilities and banks have been evacuated.
"The sea did not recede even two days after the earthquake. Houses on the coastline were also evacuated due to both the risk of an earthquake and flooding," the channel reports.
From February 6 to February 7, 3 earthquakes of different intensity occurred in Turkey. On February 8, it became known about the 4th earthquake. Tremors led to numerous victims, the death toll reaching thousands. The last time such a powerful earthquake happened in Turkey was almost a hundred years ago, in 1939.