An MP From Buryatia Liquidated Near Ugledar
6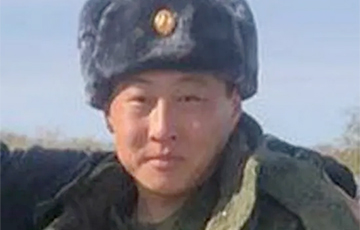 Before his government service, the occupant worked as a veterinarian-sanitarian.
Ukrainian defenders liquidated 35-year-old Russian occupant Dasha Darizhapov in battles near Ugledar in Donetsk region. The rural deputy from Buryatia traveled more than 6 thousand kilometers to fight against the AFU, obozrevatel.com reports.
He met his death allegedly from shrapnel wounds. "Demilitarization" of the invader was confirmed in the Russian Federation, announcing his funeral for March 31.
According to the obituary, "the fourth child in the family," Dasha Igorevich, born on January 13, 1988, was from the village of Khurtag in the Republic of Buryatia. He graduated from high school and entered the Buryat Republican College of Culture and Arts.
The Russian media do not report whether the Buryat graduated, but they note that he served in a subdivision of the Moscow Military District.
Darizhapov began working as a nurse-veterinarian after returning home. Later he graduated from the Buryatian Agricultural Academy and continued working for himself, "but as a certified specialist".
The Buryat joined Putin's "special operation" on September 21, 2022. In the occupation troops, "mobik" was the senior calculator of the motorized rifle battalion.
Junior sergeant Darizhapov "demilitarized" on March 18 as a result of shrapnel wounds in the village of Nikolske in Donetsk Oblast, near Ugledar.
Propagandists claim that Dasha Igorevich was allegedly awarded posthumously with the "Order of Courage." but the only certainty is that the funeral of the deputy of the rural settlement Khurtaginskoye, who died as a war criminal, was planned for March 31 in Khurtag.