Large-Scale Fire In Chelyabinsk, Russia
2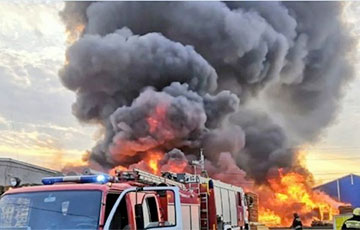 A fire train and about 10 tankers were involved in extinguishing the fire.
In Chelyabinsk, Russia, a warehouse with boards and timber caught fire. The fire is large-scale and stretched over 2,600 square meters. They even had to use a fire train to extinguish the fire.
It is reported by RBC-Ukraine with reference to the Ministry of Emergency Situations of the Russian Federation.
The department clarified that the fire happened on Yeniseiskaya Street. The fire could have spread to two storage buildings. Rescuers assure that there are no alleged victims due to the emergency.
The fire was so massive that it was given the second rank — they even organized a headquarters at the site of the fire and attracted a fire train and about 10 tank trucks.
Local media, citing the words of an electrician of the enterprise, write about a possible short circuit. Also, careless handling of fire is not excluded among the reasons.
Initially, there was a threat of fire spreading to a woodworking shop and a warehouse with pyrotechnics located next door, but the rescuers allegedly prevented this.
Fires in Russia
Recently, fires in Russia at various kinds of enterprises happen quite often, and Moscow is no exception. For example, on the night of May 12, a fire broke out in the Russian capital on the territory of a machine-building plant. It is engaged in the production of engines for MiG aircraft. Three people were injured.
As a result of a fire in warehouses with gunpowder in the village of Pervomaisky, Sverdlovsk region in the Urals, two warehouses were destroyed by fire. The flames did not reach three more warehouses where TNT was stored.