Fighting In Shebekino: Russian Volunteers Draw Out Enemy Reserves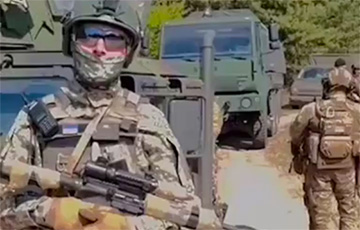 The RDK revealed details about the offensive in the Belgorod region.
The Russian Volunteer Corps continues the operation in the Belgorod region of the Russian Federation in the Shebekino area and its suburbs. This was announced on the air of the informational telethon by the representative of the RVC Alexander with the call sign "Fortuna".
"The operation is still ongoing. I can't say anything about individual moments, but the operation continues. If we are talking about territories, then this is a suburb of Shebekino and Shebekino itself," he said.
According to him, the intensity of resistance from the Russian army is gradually increasing.
"Actually, this is what we are trying to achieve. Our task is to draw out the reserves that are standing, including drawing out the reserves from the front. The intensity is increasing. These are armored vehicles, aviation, and personnel. They are carefully intensifying attacks," he said.
Fortuna also noted that the population of the Russian border territories does not particularly care about the Russian army — they shell their own territory with artillery and aircraft, and also do not ensure the safety of humanitarian corridors from Shebekino, where marauders are now operating.
He also noted that residents of the border regions of the Russian Federation can be evacuated to the territory of Ukraine if they turn directly to the RVC.
As the website Charter97.org reported earlier, the fighters of the RVC and the Freedom of Russia Legion began the second phase of the military operation on the territory of the Russian Federation.
Russian volunteers have broken through the border of the Russian Federation and are moving towards the town of Shebekino, Belgorod Region.
Volleys from "Grads" destroyed the leadership of the Russian military in the building of the Ministry of Internal Affairs in Shebekino. In addition, during the fighting, an enemy truck with ammunition and a "Tulpan" self-propelled mortar were shot down. Also, Russian volunteers destroyed a cluster of enemy equipment in the village of Novaya Tavolzhanka, near the town of Shebekino.
Later, information appeared that Russian volunteers entered the suburbs of Shebekino.