Strike On Russian Black Sea Fleet Headquarters In Crimea: Satellite Shows Devastating Consequences
3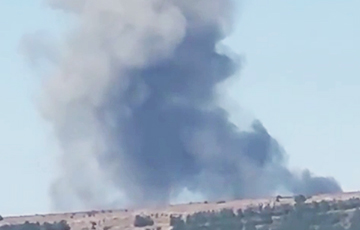 One of the buildings is completely destroyed.
The first satellite images of the aftermath of the strike on the command post of the Russian Black Sea Fleet near the village of Verkhnesadove in occupied Crimea have appeared online.
The fresh Planet Labs satellite images published by the Schemes project for September 21 show that at least one building was damaged and part of it destroyed as a result of the explosions that took place in the area on September 20.
According to the map of military facilities, the 744th Communication Centre of the Russian Black Sea Fleet Command is located there.
In the morning of September 20, several explosions took place in the temporarily occupied Crimea. Then it became known that they were the result of a successful strike on the command centre of the Russian Black Sea Fleet in the area of Verkhnesadove, near Sevastopol.
The Defense Express reported that this is a protected reserve command post of the Russian Black Sea Fleet. This command post was established back in Soviet times, and during the annexation of Crimea in 2014 it was one of the first to be seized. Therefore, the Ukrainian military were well aware of it.