Activist Beaten up in Prison Charged with Attacking Policeman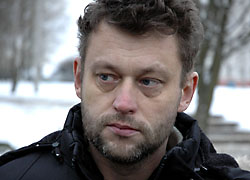 Syarhei Parsyukevich, released from Minsk center of isolation of criminals after an arrest for participation in a protest rally of market vendors on January 10, was to address doctors immediately.
Instead of taking him to his hometown of Vitsebsk, friends were to take him to the prosecutor's office of Maskouski district of Minsk, in order to receive a document on referral for medicolegal investigation, and to officially fix the traces of beating in the prison in Akrestsin Street, Radio Svaboda informs.
As said by Syarhei Parsyukevich, he was beaten up by one of the workers of the prison, who later charged the arrested with an assault. Mr. Parsyukevich also knows that the prosecutor's office is carrying out an investigation of this fact.
A Vitsebsk small businessman, an activist of the movement "For Freedom" Syarhei Parsyukevich says that he had been warned about a possible criminal responsibility for attacking a policeman. In this case he could face up to 6 years of imprisonment.
Syarhei Parsyukevich believes that the accident with beating him up in the detention center in Akrestsin Street was an intentional provocation. He had been working as a policeman for many years, and retired when he was a Major. He knows very well how a person should behave with policemen.
The activist claims that he hadn't shown any signs of aggression against the policeman.