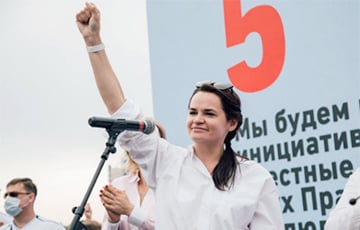 13:04
According to the headquarters, she has scored 70 to 90% of the vote in different regions.  63
Latest news
23:49

Belarusians Of France Gather For Immediate Rally To Support Their Countrymen

photo

The rally was also attended by representatives of one of the main political parties in France. 

23:26

People Occupy Peramozhtsau Avenue In Minsk

video

1

Several thousand people are walking along the avenue. 

23:09

Pompeo: US Calls On Belarusian Authorities To Respect Citizens' Right To Peaceful Assemblies 2

The US Secretary of State called the election in Belarus unfree and unfair. 

23:08

Video Fact: Minsk Right Now

video

1

The people are protesting in different parts of the city. 

23:05

Thousands Of People Gathered Near 'Riga' Store In Minsk

video

The people are building barricades. 

22:58

Ashmiany: Local Residents Gather Near District Executive Committee

video

The protesters are chanting "Long Live Belarus!" 

22:36

Zhabinka: Hundreds Of Protesters Take to The Street

photo

2

About 700 people have gathered near the square. 

22:22

Minsk: All For One, One For All!

video

5

A video fact from the capital. 

22:19

People Throw Eggs, Bottles At KGB Building In Minsk 9

These people are unstoppable. 

22:18

Massive Column Moving From Bangalore Square To Center Of Minsk

video

3

A video fact. 

21:52

US Makes Statement On Situation In Belarus 7

Washington urged the Belarusian authorities not to hinder peaceful assemblies. 

21:51

Minskers Make Riot Police Retreat At Hrushauka

video

11

A video fact. 

21:32

Continuous Stream Of Cars Blocking Main Streets Of Minsk

photo

video

2

Drivers are honking in protest. 

21:14

Lida: Protesters Occupying City Center

video

2

New people keep coming. 

21:12

Huge Column Moving To Minsk Center From Maladziozhnaya Metro Station

video

3

The people are unstoppable. 

21:05

Biaroza: Hundreds Of Local Residents Protesting

video

5

The local residents have chased away the soldiers. 

21:01

Pushkinskaya Metro Station Gives Example To Whole Country: Thousands Of people Are Moving Towards Minsk City Center

video

3

A video fact. 

20:39

Mahiliou: People Successfully Resist To Riot Police

video

4

The city residents stood in defence of a protester with a white-red-white flag. 

20:31

Video Fact: Warsaw Supports Belarusians 1

Hundreds of Belarusians have gathered. 

20:04

Residents Of Malinauka, Serabranka Micro Districts Moving To Minsk Center In Columns

video

2

The Minskers are coming out to protest. 

20:00

Kharkiv, Ukraine: Rally In Support Of Belarus Underway

photo

4

A photo fact. 

19:39

Kyiv: Protesters Lit Fusees Near Belarusian Embassy

video

2

Dozens of people have come to express their support for the people of Belarus. 

19:16

Institute Of Powder Metallurgy In Minsk Joins The Strike 12

The workers left their workplaces. 

19:04

'We Witnessed Revolution In Belarusians' Conscience'

This stage in the overthrow of the dictatorship is the most important. 

19:00

Belarusian Metallurgical Plant Workers Demand Holding Fair Election 9

The director has supported the striking workers. 

18:29

Robert Biedron: EU Must Restore Sanctions, Freeze Financial Aid To Lukashenka Regime 11

The whole world admires Belarusians. 

18:19

Dzmitry Bandarenka: We Should Not Beat Riot Policemen, We Should Try Them 19

For the complete victory, it is necessary to immediately start the All-Belarusian strike. 

18:14

Minsk Tractor Plant Worker: People, Let's Support Workers Of Belarusian Metallurgical Plant! 25

"Italian strike" has been organized at Minsk Tractor Plant and Minsk Automobile Plant. 

17:45

Donald Tusk: Belarusians, All Peoples Of Europe And World Are On Your Side 8

The European politician called on Lukashenka to publish the real results of the election. 

15:08

Tut.by: Work Stops At BMP Right Now

photo

25

The leadership of the plant does not comment on the situation. 

13:56

EU: We Condemn Actions Of Belarusian Authorities On August 9 9

The joint Statement by High Representative and Neighbourhood and Enlargement Commissioner on the presidential election. 

12:22

Belarusian Metallurgical Plant Goes On Strike

photo

49

(updated) The workers called on the employees of other enterprises for solidarity and support. 

12:21

Linas Linkevičius: Lithuania To Strengthen Cooperation With Opposition Due To Events In Belarus 7

The Lithuanian Foreign Minister called yesterday's election unfair and undemocratic. 

11:49

President Of Latvia Calls On OSCE To Investigate Election In Belarus 3

The politician supported the desire of the Belarusian people to live in a free and democratic state. 

11:38

President Of European Council Condemns Actions Of Belarusian Authorities 6

Charles Michel stated that violence against protesters in Belarus is unacceptable. 

11:33

Maryja Kalesnikava: According To United Headquarters' Data, Sviatlana Tsikhanouskaya Has Become President Of Belarus 17

The headquarters does not recognize the results announced by Yarmoshyna. 

10:53

Poland Initiates Extraordinary EU Summit On Belarus 25

Warsaw is calling for solidarity with Belarusians. 

10:15

Belarus Experiencing Internet Problems For Second Day In Row 19

News websites and social networks do not open. 

10:07

HR Activist Valiantsin Stefanovich: Protester In Minsk Was Run Over By Police Special Vehicle, He Died

photo

80

The entire responsibility lies with the authorities. 

8:41

Unprecedented People's Power: Vivid Pictures OF Protests In Belarus

video

3

See how it happened. 

8:15

Ivatsevichy: People Fight Back To Police 5

It can be seen that in the district centers the people are taking the initiative. 

7:33

Protesters In Lida: See You Again Today! 5

People actually won a victory in the night stand near the executive committee. 

0:48

Dzmitry Bandarenka: General Strike, Taking To Streets Every Day At 7 P.M. Should Start Since Tomorrow 29

We have already won, it remains only to formalize the transfer of power. 

0:20

Video Fact: Brest Celebrates Victory Of Sviatlana Tsikhanouskaya

video

1

Thousands of Bresters have taken to the streets.