Mantas Adomėnas: We see such strong candidates for the presidency in Belarus for the first time
17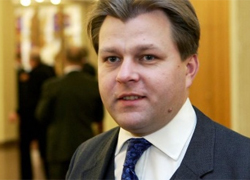 A deputy of the Lithuanian Seimas called the position of Dalia Grybauskaitė on Belarus a betrayal.
A deputy of the Lithuanian Seimas from the governing Conservative Party Mantas Adomėnas has criticized the recent statement of Dalia Grybauskaitė about the presidential elections in Belarus, saying that her position might mean a refusal to support the democratization of Belarus. This was reported by the newspaper "Lietuvos rytas" today.
"The elections will not be democratic, and it is very dangerous in these circumstances to express support for Lukashenka and argue that he has a nearly 100-percent public support," - Adomėnas said at the press conference on Tuesday.
The deputy of the Lithuanian Seimas commented the statement of Reuters news agency, which reported that during a closed meeting with ambassadors of EU countries Grybauskaitė said that "the victory of Lukashenka at the presidential elections would help maintain stability and to limit Russian influence in Belarus."
According to Adomėnas, the policy of Lithuania towards Belarus had two sides until now - there was cooperation with official Belarusian authorities in addressing specific issues and at the same time there was "support of the civil society and the birth of democracy in Belarus."
"It is doubtful, whether the saying transmitted by Reuters agency means the refusal to conduct the former Lithuanian policy" - said the parliamentarian.
According to Adomėnas, forecasts that the Belarusian opposition has supposedly no chance are not grounded.
"Speaking about the opposition, perhaps, for the first time after Lukashenka came to power, we have such strong candidates for the presidency", - the Lithuanian deputy said. Adomėnas called Andrei Sannikov, Uladzimir Nyaklyaeu and Yaraslau Ramanchuk the strongest candidates.