Natalia Radina arrested again?
47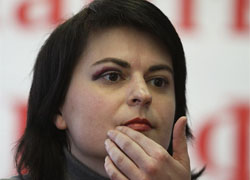 For several minutes ago Charter97.org editor Natalia Radina was arrested again.
She managed to inform her colleagues about the arrest before the connection failed. Natalia Radina was detained by people in police uniform.
We remind that Natalia Radina is forced to live in Kobrin and is not allowed to leave the town. On January 28 she was released from investigation isolator cell of KGB where she had been kept for more than a month. She is charged with organisation and participation in "mass disorders" and can face a sentence of up to 15-year imprisonment.