Registration by Ministry of Justice in exchange for collaboration with KGB
96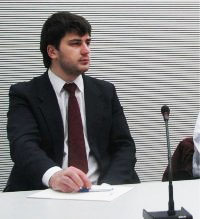 A Belarusian civil activist says how the KGB tried to recruit him promising to register his organization.
MIkalai Kvantaliani tells charter97.org:
-- On February 22, we filed documents to the Ministry of Justice to register the International Cultural and Educational NGO "Volunteering Development Centre".
On March 15, I received a call to my home phone from a man who introduced himself as Vitaly and left me his mobile phone number +375291668390 for further contacts. Vitaly said he phoned in connection with registration of the organization in the Ministry of Justice and that I would be interested in contacting him.
I called back and he made an appointment for 11:00 am March 16 in the lobby of the Ministry of Justice.
I was sure he was a representative of the Ministry of Justice who wanted to discuss some questions the registering body had to the registration documents.
On March 16, I had many things to do relating to my family, so I arrived at the Ministry of Justice with my wife and child. We were waiting for a representative of the Ministry of Justice to come down and invited me to talk.
Some minutes after, a man, about 40, came in from outside, came up to me, said my name and offered to go out. We left the building with my wife and child. Vitaly advised that they should go and wait in our car.
After my wife and child had gone away, he said he was from the KGB, but didn't show any documents. He said he wanted to discuss an issue on registering our organization. Vitaly assured me that They had checked all founders of the organization and They did not have any claims. He added that question of registration or non-registration depended exclusively on my consent for collaboration.
I asked what it meant and Vitaly explained that they were ready to offer all kinds of assistance, including registering foreign projects and grants, and ready to offer some projects, now controlled by them, to our organization. According to him, it won't necessary to work, I will need just to receive money and make reports. He said people who had agreed to collaborate with them earn 50,000-60,000 euros per year. He also guaranteed full support and security in the activity of the organization. I asked what if I decided not to head the organization and what if we declined their offer.
In the first case, collaboration will be continued with a new head. The officer said it didn't matter who the heads are, the main thing was that the organization must belong to them.
In the second case, the organization won't be registered, the founders will be put on the black list and will never be able to register another organization, moreover, I will face problems with going abroad.
After the conversation, Vitaly demanded me to say 'yes' or 'no', but I replied the conversation was a complete surprise for me and I needed time to think it over and give an answer.
Vitaly gave a sheet of paper and asked to sign it confirming that he had met with me. Perplexed, I signed that paper.
Vitaly told that he would be waiting my phone call with confirmation for 40 minutes.
We did not enter the building of the Justice Ministry any more, I returned to the car and discussed with my wife the situation as it has developed, and then with the colleagues as well. Certainly, after the calm realization of what had happened came, we reached a decision not to contact this man, and to wait for the results of registration from the Justice Ministry. The duration of the documents' review expires on March 22, 2011.
After this meeting with Vitaly we got on touch with founders of the Swiss branch and explained the situation. Their reaction was unequivocal: non-registration of the organization would be better for them then work with special services.
I was sure that this man would stop bothering me if I would not call.
However, I received phone calls from Vitaly all the time for the next few days. As I refrained from any contacts with this man, I did not answer the phone.
On March 19, I received a text message from his phone: "I will come to you with a search". Actually, I was the main reason for me to bring to public notice this entire situation, as now I realize that their intentions are to continue intimidating me and bulling into collaboration, with the help of threats. I have never thought that the issue of volunteer work and assistance to the disadvantaged strata of the population is a subject of careful attention of the "Committee of Good Deeds" (the KGB). This incident with our organization has made us ponder at least a few issues:
On what basis and on what legal grounds the documents (including personal data), submitted by us to the Justice Ministry for registration of a public association, have become available for workers of other agencies? And if Vitaly is really a representative of the Justice Ministry, what a weird law enforcement practice do they have now when registering NGOs?
I find it important to make public any similar incidents with other persons and organizations, should they occur again.