Graduates from Brest to get placement in Venezuela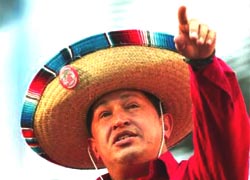 Brest Technical University will send its graduates to Venezuela for a compulsory period of work.
The university has received an offer for graduates' job placement from the Embassy of Venezuela in Belarus, Radio Racyja informs.
As noted by the deputy dean of Iindustrial and civil construction department of Brest Technical University Larysa Kazak, the students would be sent as builders to the regions of Venezuela where the population speaks Russian:
"In addition, there is Belzarubezhstroj, and these two organizations are organizing two tours of duty, the first one in the framework of the construction gang, and the second one in the framework of young professionals' career assignment. Most likely there will be two Russian-speaking groups of workers. We know that it will be work with new construction technologies."
As said by Mikalai, a 5-year student of Brest Technical University, students are offered an unbelievable salary in Venezuela.
"They offered travel expenses, living costs and at the firm's expense, plus Internet. And a salary of 1,500 USD for a start."
As informed by the administration of the university, the construction gang will have about 30 members. The total number of positions for graduates is still unknown.