Belarusian TV bashes Medvedev (Video)
213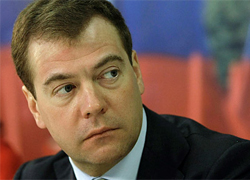 Belarusian TV (BT) has severely criticized Russia and Russia's president Dmitry Medvedev.
The tone of the propaganda programme was in striking contrast with Minsk's dependence on Moscow to overcome the deep economic crisis, Russian BBC service reports.
The Belarusian television said on Sunday evening why president Medvedev did not visit Brest on June 22, the 70th anniversary of the begging of the Great Patriotic War, and how Russian media and Russian business stand against Belarus.
Analysts in Minsk say Russia was bashed in the style earlier applied only to the West and Belarusian opposition.
On June 22, Alyaksandr Lukashenka met a sunrise in the Brest Fortress and said the Russian president offended him by not visiting the event.
The Belarusian TV claims Russia's leading TV channels ignored the invitation to Brest, moreover, a correspondent of Channel One Russia preferred to cover silent protests against the Belarusian authorities on Minsk streets.
According to BT, war veterans in Russia live in poverty, the government cannot cope with wildfires and Russian oligarchs "have been gazing at the sweet spots of Belarusian state property in the last few years".
Programmes criticizing Russia periodically appeared on Belarusian television last year. Russian television controlled by the Kremlin organized similar attacks on Minsk.
This demonstrates escalation of irreconcilable contradictions between the members of the "union state", Belarusian experts think. Media experts suppose that after the "disclosure" of Russian television, Minsk will fulfill Lukashenka's threat to set order among foreign media that cover crisis in Belarus.
"The fact that such a programme appears showed that it was a clear political order and political signal", "Nasha Niva" newspaper runs.
Lukashenka has rarely seen Dmitry Medvedev in the last few months, but had a meeting with Vladimir Putin.
Why did Minsk begin to provoke Moscow? A number of experts think it is a sign of desperation.
The loan from EurAsEC Anti-Crisis Fund is too small to solve all problems of the Belarusian crisis, but Moscow does not give a bigger one offering unacceptable for Minsk conditions of privatization posing a real threat to the country's sovereignty, economist Mikhail Zelelsky thinks.
Politologist Alyksandr Klaskouski supposes the Belarusian authorities look for any reason to give a SOS signal to the West appealing to a threat of losing sovereignty.
Libyan former foreign minister Abdurrahman Shalgam said in a recent interview to Italian Corriere della Sera that the Libyan leader planned to leave Tripoli in the nearest weeks and go to Belarus.
In this connection, Belarusian analysts recalled Lukashenka's promise to put an end to the financial crisis in the nearest "two or three weeks" and a hint that he "will not need any loans" from July 1.