Another two Swedish journalists were not allowed to Belarus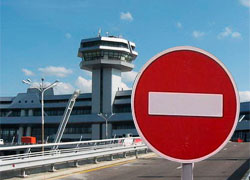 The journalists were kept in Minsk-2 airport the whole night.
BelaPAN received the information from the "Human Rights Defenders for Free Elections" campaign's coordinator Valiantsin Stefanovich.
According to him, two Swedish journalists, one of which is Erik Gonplatten, arrived to Minsk on 21 September in the evening. "Beforehand they applied for accreditation with the Belarus' Ministry of Internal Affairs. As the plane arrived, the representative of the MIA, whom they contacted regarding the accreditation, informed them over the phone, that they will be delivered the accreditation documents straight to the airport on Saturday 22 September at 10 a.m., which will be followed by issuing visas for their presence in the country", - Stefanovich informed.
However today at 10 a.m. the documents were not delivered, whereas a representative of Belavia airlines told the journalists, that his boss called him and informed that they were denied visas. "A Belavia's representative suggested the journalists to return to Sweden with a flight Minsk-Riga-Stokholm", - Stefanovich told.
Journalists' attempts to reach the MIA'a official over the phone in order to clarify the situation were not successful, the human rights defender noted.
Let us remind, two Swedish journalists had denied entry into Belarus despite accreditation with the foreign ministry to cover the country's September 18-23 House of Representatives elections. 
Stefan Borg of TV4 and the channel's cameraman had their passports stamped "Entry denied" at the Belarusian embassy in Moscow. 
"We filed a request for accreditation as far back as mid-August, but we were granted it a couple of day ago," Mr. Borg said, according to European Radio for Belarus. 
According to him, the embassy accepted their passports and they paid the visa fee, but the passports were returned on Friday with the "Entry denied" stamps in them. 
"I guess the reason was that we are Swedes and thereis a diplomatic row between Sweden and Belarus now," Mr. Borg said.