Crunch time at Lukashenka's residence construction
110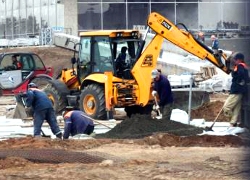 Works on the construction site on Winners Avenue continue day and night.
Hundreds of workers and tens of vehicles are involved in construction of a new residence for Lukashenka, Radio Svaboda reports.
Lukashenka said to have everything in order by October 25, when CIS heads of state are expected to arrive in Minsk. Guests should have as comfortable conditions for work as possible, he says. It remains unknown whether construction workers will be able to finish the work in ten days.
The facade of the Palace of Independence look finished, but the view from Arlouskaya Street is completely different – heaps of broken stones, pits with cables and debris.
Construction workers say the work over the strategic project doesn't stop even at night. Workers from other construction sites were transferred there, trucks and bulldozers were sent from all corners of the town. Workers hastily lay paving slabs and pave driveways with asphalt. Supervisors with document cases are running from one group of workers to another controlling that they stay on schedule.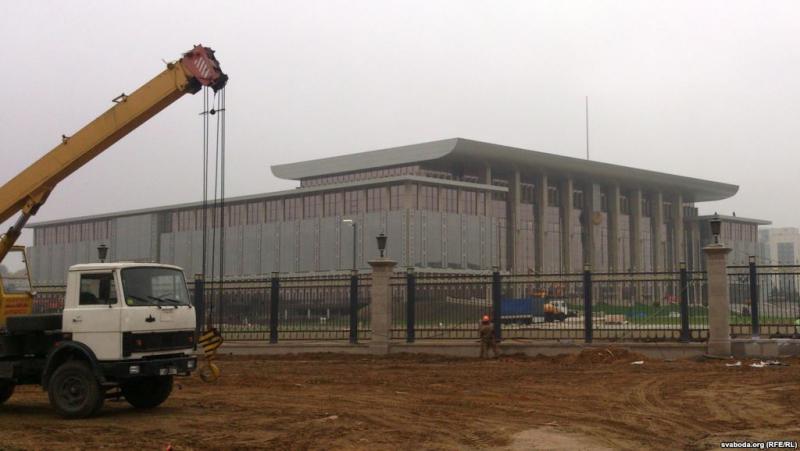 A man with a spade told journalists it's possible to set the building in order in 10 days, but it will take a long time to fix all deficiencies later.
By the way, the inscription on the facade from Winners Avenue is in Belarusian, but the Russian variant remained on the backside of the building.
Analysts emphasise that another presidential residence will be opened in the "year of frugality". According to well-informed sources, no one tried to cut costs of the construction. The palace is enclosed by the iron fence hundreds of metres long. Granite, marble and other rather expensive materials were used in the interior. Specialists from Greece and Turkey were invited for masonry works.
Other foreign workers were involved: Japanese specialists for air-conditioning and ventilation systems, Germans for electrical works and sanitary engineering, Serbs for plumbing works. People from Tajikistan, Uzbekistan, Vietnam and North Korea were used as unskilled labourers.