Political prisoner Vaskovich in isolation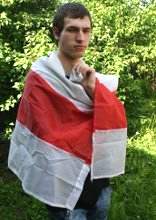 Friends and relatives have not received letters from Yauhen Vaskovich for more than a month.
The website charter97.org learnt it from Tamara Vaskovich, the grandmother of Yauhen Vaskovich, an imprisoned activist of the organising committee to create Belarusian Christian Democracy party.
"I have no news from my grandson for the second months. I haven't received any letters. His mother and aunt have not got news from him too," the grandmother of the political prisoner noted.
It should be reminded that Yauhen Vaskovich was tried together with Artyom Prakapenka and Pavel Syramolatau. He was sentenced to 7 years in prison for attempted arson of the doors of the KGB building in Babruisk. Pavel Syramolatau was released in September 2012 after he had applied to Lukashenka for a pardon. Yauhen Vaskovich and Artyom Prakapenka refuse to apply for clemency.