Will "social parasites" pay fines of $1000 a year?
248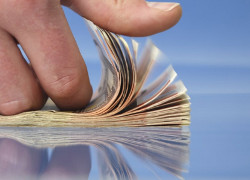 This sum is has been calculated on the basis of the official "minimum wage" in 2014.
And thanks to this initiative of the government, the public purse could receive $484 mln additionally.
The leader of the project "Cost of government" Uladzimir Kavalkin told the news source "Zavtra tvoej strany" how to minimalize losses for one's wallet.
The proposal of the leadership of the country to introduce responsibility for "social parasitism" produces quite a number of conflicts of law and ethical problems, which have already been expressed by independent experts. But it is unlikely to stop the government. The vertical of power is oriented rather to following the orders of higher authorities, then to following the logics of the law or creating favourable conditions for doing business. That's why one should not hope that the initiative would be cancelled.
Once again under a specious excuse the authorities resolve their financial problems at the expense of citizens. Not alcohol and drug addicts or other marginal groups of population would turn out to be "social parasites", but entirely solvent citizens.
"A considerable part of these people are firstly so-called construction and repair brigades, which build and repair cottages, flats and so on. The second part of this half a million population are those who work in Russia semi-officially, but are registered here. And the third part of these citizens, probably the smallest one, are the so-called political oppositionists, who get money from abroad," believes the Dean of the Faculty of Economics of the Belarusian State University Mikhail Kavalyou.
In addition to the mentioned groups, they could be those who are called "the creative class" in Russia: architects, designers, copywriters, programmers.
What will be the results of the initiative of the country's leadership for all those "social parasites"? Let's make calculations basing upon the year 2014. According to the data of the Ministry of Labour and Social Protection, the minimum wage in Belarus ranged from Br1,660,000 to 1,756,000 per month. Supposing that the minimum wage would not rise before the end of the year, 34% of the year sum should be paid to the Social Protection Fund (SPF), which is equal to Br7,029,493, 1% to the pension fund – Br206,750, and 12% of the income tax – Br2,480,998 per year. It is Br 9,717,241 in total, or $968.
We remind that earlier the government initiated increase of the income tax rate by 1%. Since the next year it is to be 13%, which would allow the government to take away from citizens additionally Br2,249 bn. In addition, according to the draft budget for 2015, we expect a considerable growth of excise duties, which is to cost Br 2,725 bn to Belarusian citizens through the rise of cigarette, alcohol and petrol prices.