Lukashenka: Neither World Championship, nor amnesty will help political prisoners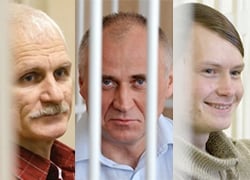 The dictator claimed that Western politicians are "incapable of anything".
Lukashenka said that on 23 March as he answered journalists' questions at a polling station, after having voted in the municipal elections, BelaPAN reports.
"If there is a plea (for pardon - charter97.org) – I will sign it. If there is not – neither the World Championship, nor the 70th anniversary of the World War II victory, nothing will help. We should not be bent", - he claimed.
The ruler also spoke of Western politicians. Lukashenka believes that they will be afraid to introduce serious sanctions against Russia for its policy in Ukraine. This comes from Interfax-Ukraine.
"West is such a profanation, these are people incapable of anything. How much dust they threw in the eyes – "we will!". I already got scared so there was no war. Twenty people out of Russian officials will not be allowed to travel to Europe: part of them never went to Europe, another part does not have to go there for official duties. Compare the sanctions against Belarus and Russia. Getting scared? You are. Russia is not Belarus. That is why they are trying to sway, twirl, spin, in order to save the face. They are incapable of anything", - he stated.
We would remind that Belarusian human rights activists, the EU and the USA demand that 10 Belarusian political prisoners were released: Mikalaj Statkievich, Ales Bialatski, Mikalaj Autukhovich, Eduard Lobau, Mikalaj Dziadok, Ihar Alijenievich, Andrej Hajdukou, Vasil Parfiankou, Jauhien Vaskovich and Arciom Prakapienka.