Russia has introduced passport control at border with Belarus
66
25.03.2014, 13:40

145,257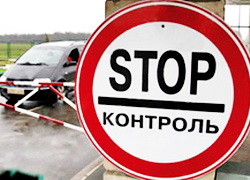 Armed border guards are checking documents and search cars.
Russia has introduced passport control at the border of Russia and Belarus. Russian border guards with arms stop and search cars, check documents and cargo.
One of the border guards told a Nasha Niva's reporter that their task is to detect and inspect Ukrainians going to Russian through Belarus.
Usually there is no border and customs control at the border between Belarus and Russia.
Border guards pay attention to the cars on Ukrainian license plates, while they do not bother cars with Belarusian plates much, the newspaper points out.
Photo: ria.ru