Libereco urges to release Belarusian political prisoners
1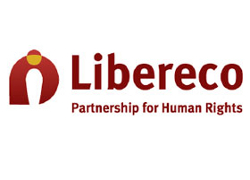 Human rights defenders call to release the Belarusian political prisoners on the occasion of the Ice Hockey World Championship.
Libereco — Partnership for Human Rights, a Swiss-German human rights organisation, called on Lukashenka to grant amnesty to the Belarusian political prisoners on the occasion of the Ice Hockey World Championship, BelaPAN reports.
The statement on Libereco's website reads that nine people remain under arrest for political reasons in Belarus. They are former presidential candidate Mikalai Statkevich, Nobel peace prize nominee Ales Bialiatski, activists Ihar Alinevich, Mikalai Dziadok, Andrei Haidukou, Eudard Lobau, Vasili Parfiankou, Artsiom Prakapenka and Yauhen Vaskovich.
The statement underlines that imprisonment on political motives is a serious violation of human rights, but "this could easily be ended by this special amnesty".
The appeal to Lukashenka was signed by Christoph Strässer, the German Federal Government Commissioner for Human Rights Policy; members of the German Bundestag Marieluise Beck, Ute Finckh-Krämer and Katrin Dagmar Göring-Eckardt; members of the European Parliament Marek Migalski and Werner Schulz; and other politicians and public figures.
Lukashenka submitted an amnesty bill timed to the 70th anniversary of Belarus' liberation from the Nazi invaders to the parliament on April 21. About 2,730 people are to be released unconditionally and some 5,500 convicts will have their prison term reduced by one year.
It is unknown whether the political prisoners will be included in the amnesty. Lukashenka said to journalists on March 23 that the political prisoners wouldn't be freed without applying for a pardon.
"I don't want to repeat, but if I have a petition [for a pardon], I will sign it. No petitions – neither the world championship, nor the 70th anniversary of the victory, nothing will help. This is my principled approach. It's not only mine. We are a state, we are a country. One should not make us bow and treat us using double or triple standards. It's not my signature that can decide everything," Lukashenka said.