Swedish human rights activist detained at Minsk airport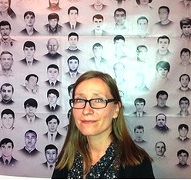 Paulina Kluge was allowed to enter Belarus only after talks between Rene Fasil and Lukashenka.
Christer Englund, the president of the Swedish Ice Hockey Association, said it in an interview with SVD sport.
According to him, the detention of Pulina Kluge and the earlier detention of Martin Uggla are obvious violations of the arrangements between the International Ice Hockey Federation and the Belarusian authorities.
"No visas are needed for those having a ticket for a hockey match. It shouldn't matter what your name is," Christer Englund said. "The issue is now being discussed on the level of Lukashenka and Fasel."
Human rights defender Martin Uggla, who had been deported from Belarus earlier, wrote on Facebook about the details of the detention of Paulina Kluge.
"Another Swedish human rights activist from Östgruppen – Paulina Kluge – was detained at the airport in Minsk on May 9. She was waiting for the deportation. My case was being discussed at the highest level (Fasel and Lukashenka) at that time. They began to discuss both issues. As a result, Paulina was allowed to enter the country! They said it was a 'technical error'. As for my status, there's no new information so far," he wrote.
Nine political prisoners, including former presidential candidate Mikalai Statkevich and vice president of the the International Federation for Human Rights Ales Bialiatski, are serving long prison terms in Belarus. About 30 opposition activists have been detained by the police in the last two weeks. Human rights defenders explain the arrests by the Ice Hockey World Championship in Minsk.