BelTA: "DNR" representatives took part in talks as well
10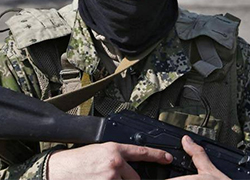 According to information of the state news agency, representatives of the "Donetsk People's Republic" are taking part in talks held in "Zaslavl" now, as well.
"Face-to-face consultations of the trilateral contact group (Ukraine-OSCE-Russia) on settling the situation in eastern Ukraine are taking place in Minsk with participation of the leadership of the self-proclaimed Donetsk People's Republic. The sides plan to discuss providing secure access of international experts to the site of Malaysian plane crash to investigate the reasons of the air incident, as well as launching the process of release of the captives held by the sides," the information of the agency reads.
The talks are held behind the closed doors, so there is little information about them.
The contact group is presented with participation en corps: the former president of Ukraine Leonid Kuchma, Russia's Ambassador in Ukraine Mikhail Zurabov and the official representative of the acting chairman of the OSCE on the issues of settling the situation in Ukraine Heidi Tagliavini.
The negotiating sides have agreed upon a possibility to engage experts for elaboration of technical details of the discussed issues.
We remind that earlier Ukrainian President Petro Poroshenko offered Lukashenka the initiative of holding in Belarus talks on solving the Ukrainian crisis. Such a phone conversation between them was held on July 29.