Belarus demands from Russia to set off oil refineries' losses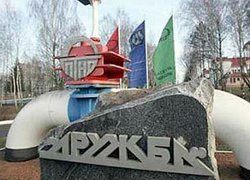 The bargaining for a sum of up to $1.5 billion is taking place.
Belarus demands financial compensation from Russia for a tax maneuver in the oil industry, "Vedomosti" newspaper was told by three federal officials. The negotiations on compensating losses of Belarusian oil refineries are in progress, they inform. "There are no decisions so far: we have decided to calculate losses together and decide what to do with that," a high-ranking Belarusian official announced.
A three-year maneuver is reducing oil duties, excise taxes, and increase of the tax on natural resources production.
Since 2015 the rate of the tax on natural resources production is to grow up to 765 rubles (while it is 530 rubles in the law currently in force), since 2016 it is to become 856 rubles, and 918 rubles since 2017. In three years the export duty for oil is to be decreased almost to the level of Kazakhstan, to 42%, 36% and 30% respectively.
Because of the decreased duty, the home price for oil is to grow (it is pegged to the duty in the formula), which is to hit at the of oil refining margin both in Russia and Belarus. Refineries buy oil in Russia without duties, at a home price, and as compensation Belarus gives back duties from export of oil products, produced from Russian oil.
Losses of Belarus in 2015 can reach $250 mln, in 2016 – $300 mln, in 2017 – $370 mln, "Prime" was told by an official in the specialized Belarusian agency. He didn't specify which losses are meant, losses of the budget or of the industry. The spokesperson of the Prime Minister of Belarus could not answer the question of "Vedomosti". Losses of Belarus have not been calculated yet, an official from Belarus says. Representatives of the Finance Ministry and the Energy Ministry of Russia do not comment on the proposals of Minsk.
Belarus offers to decrease the sum of duties from export of oil products, transferred to Russia, two participants of the talks say. It is a payment for oil without duties. Alyaksandr Lukashenka estimated it at about $4 billion. Minsk insisted on lifting all compensations and limitations after the Eurasian Union starts functioning in 2015. But Russia didn't want that, and it persuaded Belarus to decrease compensations gradually, in 2015 Russia is to receive by $1.5 billion less. Now Belarus wants to five back by $1 – 1.5 billion less, a participant of the talks says. Because of the maneuver which is more profitable for oil industry workers (an alternative could be increase of duties for export of mazut to 100% of the oil duty), the budget of Russia is to lose up to 240 billion rubles. According to estimates of officials, because of compensations losses of Belarus could be equal to about 300 billion rubles.
Anyway Russia is subsidizing Belarus seriously: due to oil and gas, Belarus received preferences for about $10 billion in 2013, that is, net of duties of Russian transfers returned to Russia it makes about $6 bn, or about 10% of the GDP of Belarus, Alexander Knobel from Gaidar Institute stressed in the article for "Vedomosti".