Alexievich: Lukashenka Personally Made Decision On Astravets NPP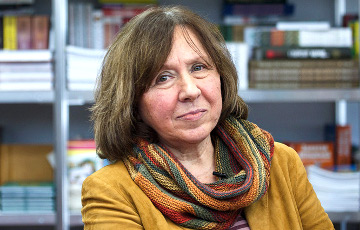 Nobel laureate Svetlana Alexievich called Belarusian authorities' decision to build a new nuclear power plant a crime.
It is reported by the Lithuanian TV3 channel.
"I think it's a crime. The crime, which says that we haven't drawn out the Chernobyl disaster, haven't drawn conclusions, – the writer said, answering the question how she assessed the Astravets NPP project.
The question was asked on Saturday during a meeting with the audience after the premiere of the play based on her book "Chernobyl Prayer" in Panevezys Drama Theater named after Juozas Miltsinis.
Svetlana Alexievich believes that people have not got the sense of the Chernobyl's catastrophe, as after the collapse of the Soviet Union, their attention was occupied with other problems – loss of jobs, the break-down of the system.
The writer also said that the decision to build a nuclear power plant had been taken by one man – authoritarian Belarusian leader Aliaksandr Lukashenka.
"Belarus is a closed, authoritarian system, and the theme of Chernobyl is also a closed topic. The authoritarian system does not assess the value of a human life, does not think about the future of the nation, but only about the problems of power. Society is paralyzed by fear, by constant supervision," – Alexievich said.
"One person makes decisions in an authoritarian country, and he has decided to build a nuclear power plant," – the writer said.
The construction of the nuclear power plant in Belarus, at about 50 kilometers from Vilnius, causes a sharp criticism in Lithuania. Lithuania argues that Belarus does not provide the safety of the project. Lithuanian Leading political parties said that their country would not buy electricity from the Astravets NPP.