"Lukamol" Is Pale Imitation Of Komsomol
Yauhen Afnahel
12.11.2018, 15:39

2,668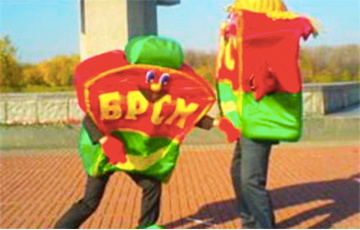 Two parallel realities have formed in Belarus.
Yauhen Afnahel, the coordinator of the civil campaign European Belarus and one of the leaders of the Belarusian National Congress, said this in an interview with the RTVI television channel, commenting on the scandalous audio recording of forcing Belarusian schoolchildren to join the Belarusian Republican Youth Union:
– There was nothing new in this recording. Belarusians have long known that the Belarusian Republican Youth Union force people to join, that when entering universities or settling in a dormitory, a student is asked if he or she is a member of the Belarusian Republican Youth Union. And if a student or a pupil is not the member of the union, then he or she may have problems with the studies, and with the subsequent career.
– What is the reason for Lukashenka's sympathy for the era he is copying, supporting the Belarusian Republican Youth Union?
– The first reason is Lukashenka's fear of the Square and street protests. Lukashenka knows that the youth was the engine of change in Ukraine, in Armenia, and in other post-Soviet countries. And Lukashenka, like any dictator, is very afraid of street protests, afraid of the people.
Therefore, on the wave of protests in the late 90s, the dictator's administration came up with the idea of creating its own organization, which, in the opinion of Lukashenka's ideologues, should attracted young people to their side.
The second reason is that Lukashenka is an outdated, archaic product of the mid-1970s, the time of his youth. And he uses the tools that he knows. He believes that t
The BRYU took the worst from the Komsomol. In its time, the Komsomol was built on some ideas, while the BRYU has only one idea – to get as much money from the state budget as possible and to "digest" it properly.
Belarus has formed two parallel realities. In one of them, there is dictator Lukashenka with his parades, the Belarusian Republican Youth Union and pro-government organizations.
And the other reality is the majority of the Belarusian population, who are just looking for opportunities to survive with their beggarly wages, who do not believe Lukashenka and his propaganda.
These two realities meet very, very rarely. For example, at times, when people take to the streets and protest.