Did Chinese Escape From Svetlahorsk?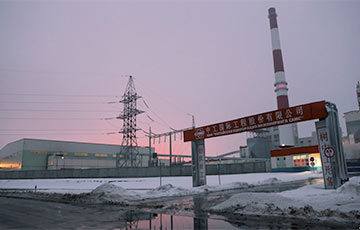 The harmful bleached pulp plant worked only 72 hours at 80% capacity.
Chinese workers left the bleached pulp plant in Svetlahorsk. According to official information – because of the holidays. The plant worked only 72 hours at 80% of capacity, after which it stopped.
But, according to unofficial information, Chinese investors left the plant, Alena Masliukova, a member of the Viasna human rights center, has told Radio Racyja.
According to the human rights activist, most likely, this investment project has failed. In addition to the billion Chinese credit that has already been invested in the plant, a lot of more money is needed. Now the proposal of the Austrians, who promised to build for a billion a modern plant with bleaching through oxygen, comes to mind, but then there was no money:
– They found a loan tied to China, and now we are facing the consequences. It is very interesting where that money was spent. At this factory, everything is siphoned off, and in whose pocket – it is not our business. This is the business of the Investigative Committee, prosecutors, they have to deal with it.
According to Alena Masliukova, even the birch trees that were planted around the factory and which dried up, were brought from Poland for 50 rubles each. Did we run short of our trees?