Lukashenka To Putin: I Thought We Led War Against Germany Together...
61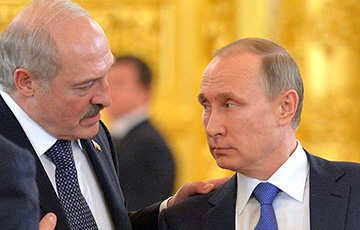 The dictator is begging for cheap gas from the Kremlin boss.
Lukashenka begged Putin to decrease the price for gas publicly in St. Petersburg, tut.by writes:
- I am speaking not from the angle of howling and crying, but because some things had been agreed upon and remained undone. Our Union was based on certain freedoms – freedom of movement of manpower, capital, goods etc. And the main thing we agreed upon in the economic field was that all economic entities andf people would have equal conditions. No equal conditions – no Union, - Lukashenka said.
Lukashenka added that Gazprom's tariff for the transportation of natural gas for Belarus amounts to almost $ 3 per 1,000 cubic meters per 100 km, and the internal tariff in Russia is about 1 dollar per 1,000 cubic meters per 100 km. Within the structure of the gas price for Belarus, the payment for transportation inside the territory of Russia is more than 70%.
At the same time, he reminded that there is a plan for entering the single market by 2025.
- As for the current situation, now it's not the tariff that is important, but the final price of the gas. I am pointing out here that $129 (per one thousand square meter sof gas) is the price for Belarus today, next year it will be $127. The Federative Republic of Germany pays $250.
This is of course a great advantage for the EAEU members. Of course it is necessary to strive for unification, but this will require time and higher level of integration, - Putin believes.
- You are right, Vladimir Vladimirovich, but our key partner is not the Federative Republic of Germany, but Russia, - Lukashenka retorted, having reminded that there are 60-70% of Russian parts and fittings in the Belarusian equipment. - You mentioned the year 2025, but it remains important so we moved towards this point, not stop on the way. You calculations are wrong! We have worse conditions than Germany! I thought we led a war against Germany together, but our people, who have not yet died after the war, have such a situation. We have had worse conditions than Germany so far, it's needed to pump for about 3 000 kilometers there.
- However, our partners have advantages already today. If there was a market price for Belarus, it would have been about $200,- Putin noted.