Lukashenka: 'Parasites' Will Pay Not Only For Communal And Utility Services
139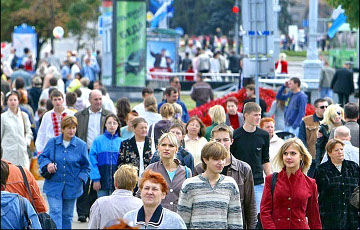 The dictator specified the services for which the unemployed would pay in full.
The "parasites" issue is a problem that Belarus faces as well as other countries, Lukashenka noted as he met with heads and journalists of Belarus' largest state-run media outlets today, BelTA informs.
Other countries also deal with this problem, the dictator pointed out and mentioned Russia as an example. According to him, the Decree #1 is mainly designed to make people work and pay for the services provided by the state, including healthcare, housing and utilities.
- Is it normal that about half a million working-age Belarusians are not employed, doing who knows what? They are loafing about, and for our expense (the state budget - ed.) they got education, enjoy medical care, use communal and utility services, their children go to kindergartens, schools. We pay for them. Many of those people commit crimes, and we spend huge money to provide for them in prison, - the state media quote Lukashenka.
The ruler stressed that the idea of the Decree is that it is necessary to pay for the services received in Belarus. As an "example", Lukashenka set the United States, where allegedly about 50 million people who do not have insurance, "cannot get medical help."
"The main point is to make them work. This was my idea, no one gave it to me," - the dictator added when speaking about the initiation of the Decree.
Earlier, the government determined who will be subject to the updated document on parasitism - the Decree #1.
At the same time, the final list of services for which those who fall under Decree # 1 will have to pay at full rates, has not yet been approved. According to the resolution of the Council of Ministers, published yesterday, these will be housing and communal services. However, it is not yet known which ones.
"The draft bill, which determines the list of these services, is at the final stage of agreement," - said First Deputy Labor and Social Protection Minister Andrei Labovich.
Previously, it was assumed that Belarusians, affected by Decree #1, will pay for housing and communal services at an economically justified rate. At the same time, there is no question of reimbursement of expenses for medical assistance, the Minister of Health Valer Malashka stated.